"The trip with Ziyou and Rainy of Spoonbill Sandpiper was just perfect for Ann and me. While I am certain that they would be capable of assisting even the most serious birders, we are quite unapologetically nature enthusiasts who enjoy taking the time to observe birdbehavior and sharing those experiences with others. We love listening to and looking at the birds, and we also love the obscure places wego and the people we meet along the way... getting a true feel for the birdsand the places where they live. In designing this custom trip for us, Spoonbill Sandpiper really listened to our objectives and made ourvision a reality. We went to a variety of habitats and about half the birds we saw were "lifers" for me. We enjoyed eating in our guides' favorite small restaurants, sampling local delicacies, and learningabout each others' lives. The temple and school visits added significant cultural bonuses. Ziyou and Rainy were very kind andhelpful and attentive to our needs. We would hope to return someday for another trip with this group, and meanwhile recommend them to anyone whowants a wonderful birding experience in the Shanghai region."
——Karen Johnson
Foreword

Last week, we took two lovely ladies (Karen and Ann) from the US on an exciting 4-day birdwatching trip to Nantong, Yancheng and Nanjing, all in Jiangsu Province. The two ladies had just finished a 14-day cultural trip run by National Geographic. Having decided that they'd prefer birdwatching to shopping, they contacted Spoon-billed Sandpiper in China to have an extended nature-focused trip before heading back to the US.
The tour comprised both natural and cultural components, where the two ladies interacted with teachers and kids from a local primary school. In this short article, we will give you a brief trip overview, as well as a glimpse of some exciting trip highlights!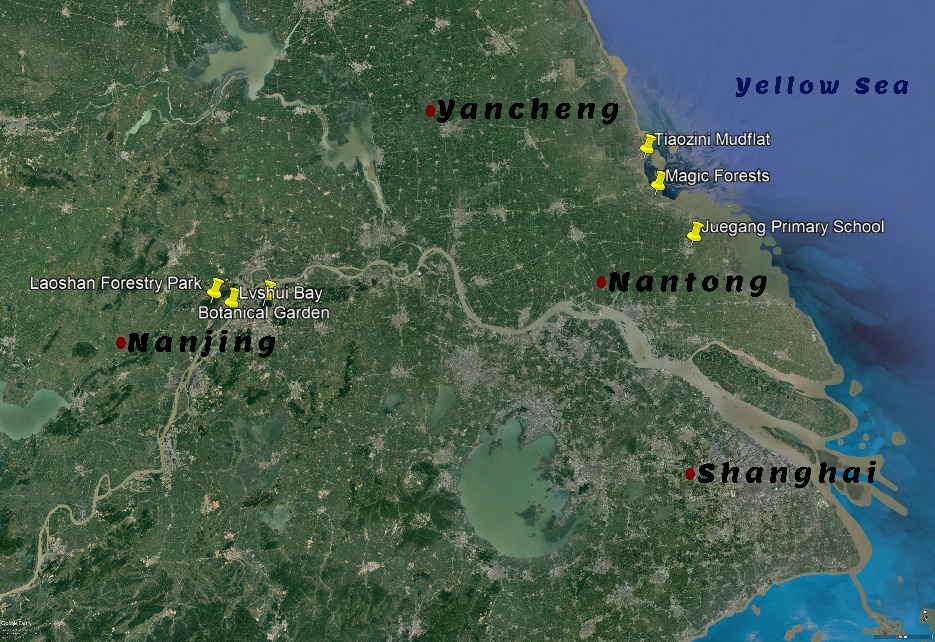 Tour map
Nature never fails to surprise you – the Magic Forests of Xiaoyangkou
We wanted the ladies to visit a wide variety of habitats in the limited time they'd spend here. The trip started with landbird watching in Rudong, where we first took them to the Magic Forest near Links Hot Spring Hotel and the once popular birding spot - Haiyin Temple.
People refer to Jiangsu's coastal windbreak forests as the Magic Forests, in that they serve as effective migrant traps during migration seasons; during peak times, a small patch of forest can hold a large number of migratory (and often colourful) landbirds, and the high turnover rate means that birds you find in the afternoon could be different from those you saw in the morning (hence the word 'magic').
In less than 2 hours, we found 24 species including the Black-winged Cuckooshrike, Lesser Coucal, Brown Shrike, Great-spotted Woodpecker, Yellow-billed Grosbeak and Grey-streaked Flycatcher in a short strip of the forest.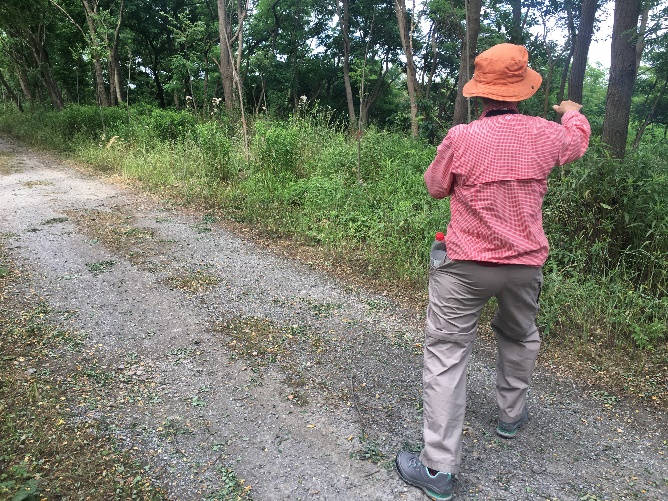 Look what magic the forest has done to Ann, who was feeling so relaxed that she started doing Taichi! (photo credit: Ziyou)
Manchurian Bush Warbler in the Magic Forest (photo credit: Ziyou)
The area around Haiyin Temple has experienced considerable change over the past few years, where a large patch of trees has been destroyed and converted into temples and a rather pathetic-looking zoo filled with exotic animals. Despite the habitat change, we still managed to find a female Blue Rock-thrush, Eurasian Hoopoe, as well as a number of terns.
One of the best wader-watching sites in the world – Tiaozini Mudflat
On day 2, we went to Tiaozini Mudflat in coastal Yancheng to watch the shorebirds. The high tide on that day was on the low side; however, we still managed to see a wide variety of waterbirds in stunning breeding plumage, which included 1000+ Sharp-tailed Sandpipers, Saunders's Gulls, Bar-tailed Godwits, Curlew Sandpipers, Lesser Sand-plovers, Red-necked Stints, Eurasian Curlews, Ruddy Turnstone, etc.
Immediately next to the mudflat, aquaculture ponds and some undeveloped working wetlands presented a somewhat different species composition, with Pied Avocets, Black-winged Stilts, Marsh Sandpipers, Eurasian Oystercatchers, Gull-billed Terns and Black-headed Terns being the most abundant.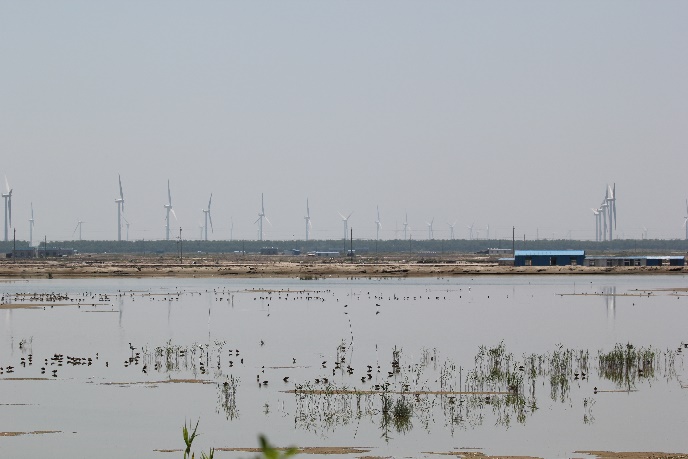 Waterbirds in an undeveloped pond (photo credit: Ziyou)
Some highlights at Tiaozini included a Chinese Egret wearing a satellite tag, as well as a marked Eurasian Spoonbill standing amongst a group of 5 Black-faced Spoonbills.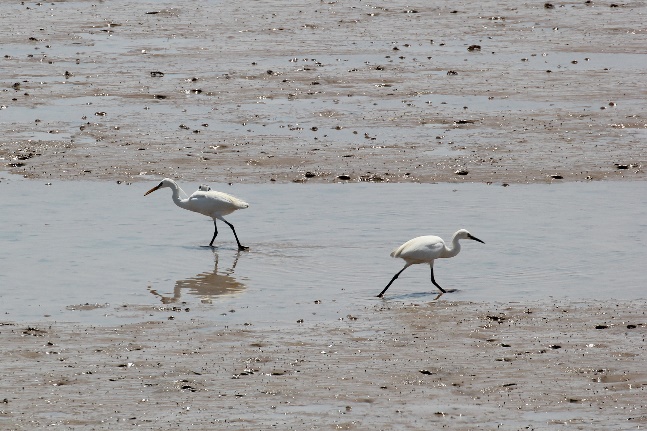 Chinese Egret (left) wearing a satellite tag on its back; it is of similar size to the Little Egret (right) (photo credit: Ziyou)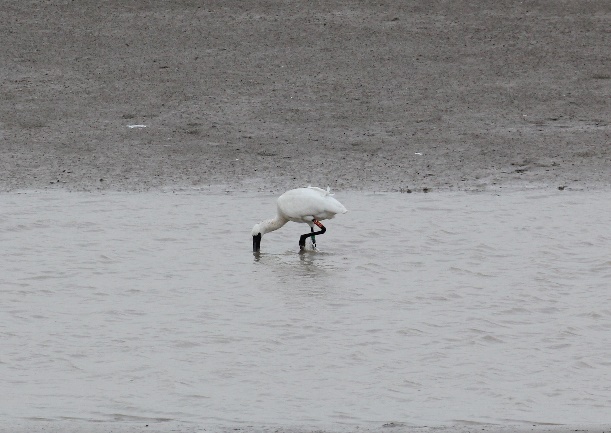 Marked Eurasian Spoonbill with Red V63 on the left tibia and blue, green and blue rings on the right tibia. This individual was marked in 2018 in South Korea (photo credit: Ziyou)
Yet another highlight of Tiaozini would be the hundreds of nests of Saunders's Gulls, Pied Avocets, Little Terns and Kentish Plovers sitting amongst a vast area of saltmarshes dominated by seepweed. While most birds appeared to be brooding, we did see (from a distance) some rather fluffy baby birds scurrying around and chasing after their parents.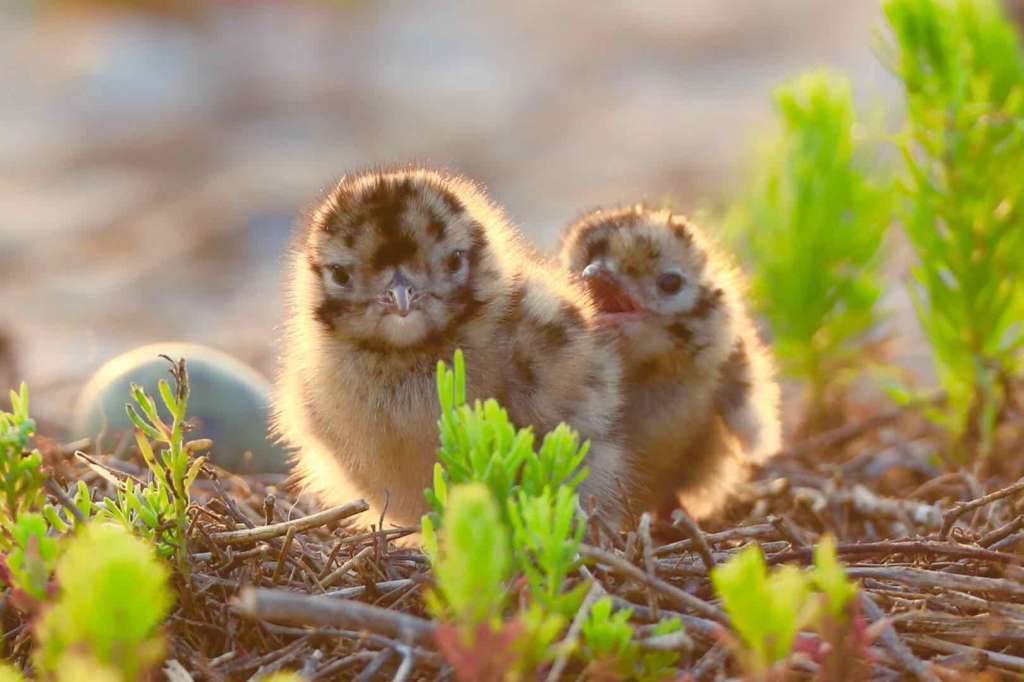 Two baby Saunders's Gulls (photo credit: Dongming Li)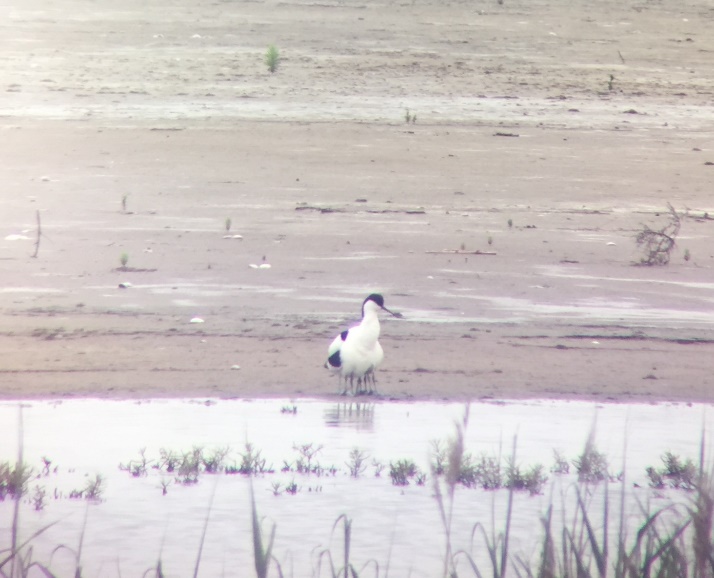 Avocet and its chicks: how many legs can you see? (photo credit: Rainy)
Nanjing is more than a historical and cultural destination
On Day 3, we headed over to Nanjing in search of summer birds in wetlands and especially forested areas. Nanjing is the capital of Jiangsu Province. Its rich history and diverse culture attracts tourists from all over the world, but relatively few people know about its beautiful nature.
Having no extensively forested areas near where they live, Karen and Ann enjoyed the Nanjing Botanical Garden and Laoshan Forestry Park tremendously. We enjoyed great views of Chestnut-winged Cuckoos, Large Hawk-Cuckoos, Red-billed Blue-Magpies, Masked Laughingthrushes, Collared Finchbills, Grey Treepies, Black Kites, Chinese Hwameis, nesting Blue-whistling Thrush, 3 species of drongos (Black, Ashy and Hair-crested Drongos) and 3 species of woodpeckers (Great Spotted, Grey-capped Pygmy and Grey-headed Woodpeckers). Some other species, such as Common Cuckoo, Indian Cuckoo and Asian Koel, are more secretive in nature so we did not get to see them; however, they certainly announced their presence with their characteristic calls/songs.
A peaceful trail in the Nanjing Botanical Garden (photo credit: Ziyou)
Chestnut-winged Cuckoo (photo credit: Ziyou)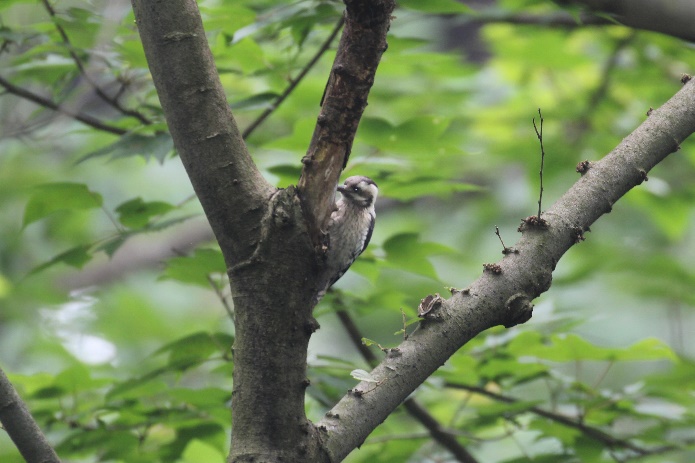 Grey-capped Pygmy Woodpecker (photo credit: Ziyou)
In order to see a wider variety of birds, we went to Lushui River Bay in the afternoon. The wetland was quiet in the rather unbearable afternoon heat. Only a few common species, such as the Common Kingfishers, Chinese Pond-herons, Vinous-throated Parrotbills and Spot-billed Ducks were around. The elegant Pheasant-tailed Jacana was nowhere to be seen, probably due to the disturbance caused by anglers and reed collectors.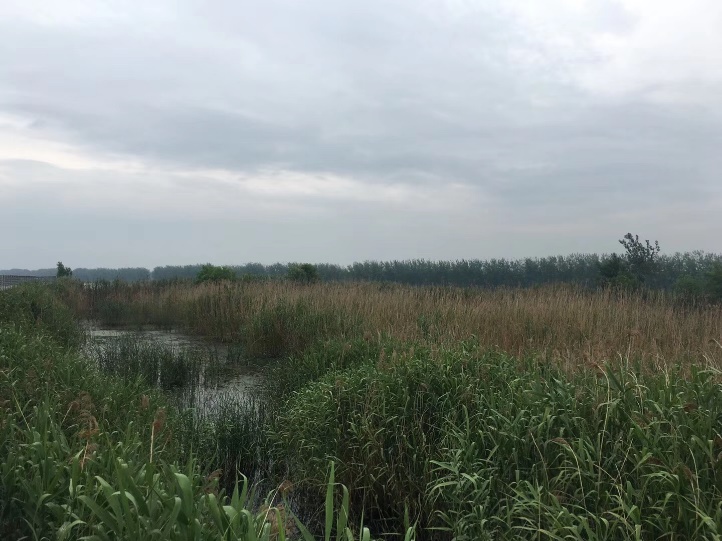 A corner of Lushui Bay, a small wetland where the Pheasant-tailed Jacana was reported (photo credit: Ziyou)
We ended the day with a brief visit to the Yangtze River, the longest river in the world, to watch the Yangtze Finless Porpoises, whose population is a little more than 1000 and categorised as Critically Endangered on the IUCN Red List. While watching the porpoises coming to the surface of the river to actively search for food, we couldn't help but talk about manatees in the US, sea turtles in Australia as well as other animals that are currently imperilled by human activities. Though the process is painfully slow, the American and Australian governments have taken some actions to save their majestic animals. We hope the Yangtze Finless Porpoises can also benefit from the upcoming fishing ban somehow.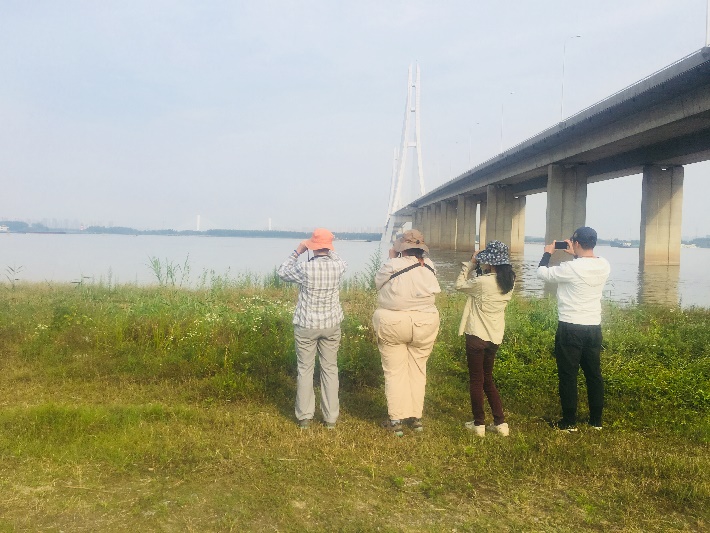 Watching the Endangered Finless Porpoises by Yangtze River (photo credit: Ziyou)
'This is our best day in China'
Although the school visit was listed as 'optional' in the trip itinerary, both Karen and especially Ann showed great interest in this activity. It turned out that they made the right decision, as the school visit 'added significant cultural bonus' to their trip.
For the past few years, Spoon-billed Sandpiper in China has established several Spoon-billed Sandpiper classrooms at primary schools near Jiangsu's coastal mudflats. During this trip, we visited the very first SBS classroom, that is, the one created and managed by Mrs. Miao Chen and her colleagues from Juegang Primary School.
The classroom is situated in a 6-storey art building, where art classrooms of different themes (e.g. Chinese painting, collage art, crochet, etc.) were located on each and every floor. The SBS classroom, in particular, showcased Spoon-billed Sandpipers in various art forms.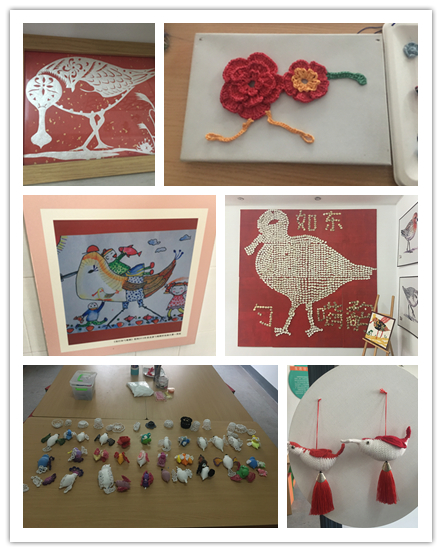 Spoon-billed Sandpiper in various artforms, all created by Mrs. Miao Chen and her students! (photo credit: Ziyou)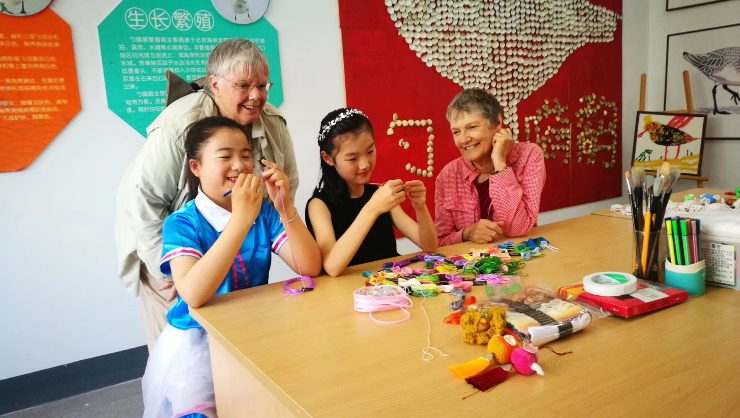 Karen (left) and Ann (right) watching students making crochet Spoon-billed Sandpipers in the SBS classroom (photo credit: Miao Chen)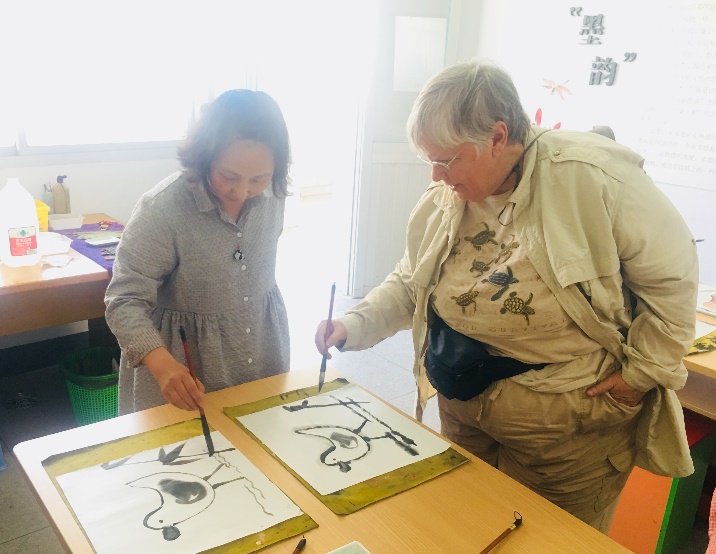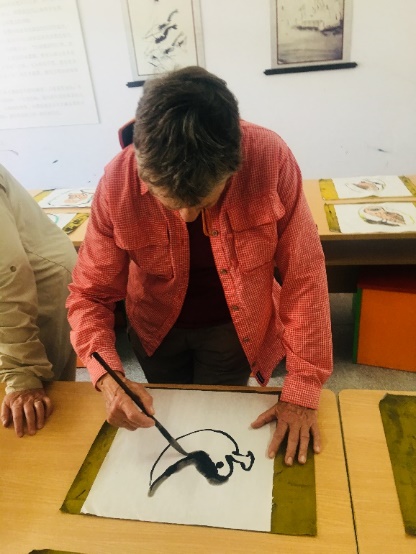 While in the art building, we also visited the Chinese painting classroom run by art teacher Mrs. Xiuyun Xiao. Mrs. Xiao taught Karen and Ann to paint an adorable spoony in the classroom (photo credit: Ziyou)
The amazement of the school visit did not just end here. By the end of the day, the school also invited all of us to watch the annual choral competition. The students' enthusiastic singing, the warm greetings extended from the school staff, as well as the school's stark contrast to general American schools got the ladies saying, 'this is our best day in China!'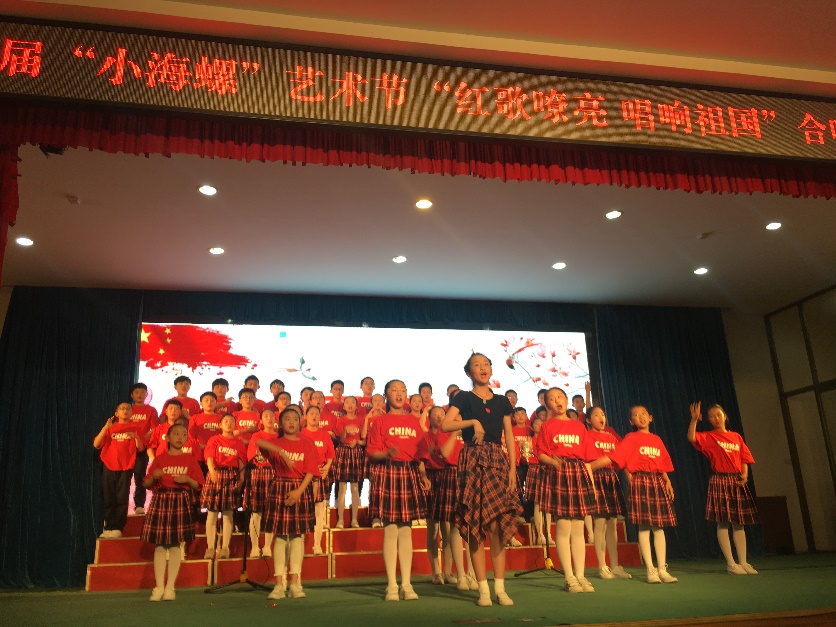 Choral competition (photo credit: Ziyou)
How time flies
The trip came to an end all too quickly, with 90+ bird species observed during the 4 days. It was hard to say goodbye. To quote Karen, the past few days have been 'a real highlight of our China trip for both Ann and me'; likewise, the trip has also been a memorable experience for us. We certainly hope to visit the lovely ladies in Florida someday!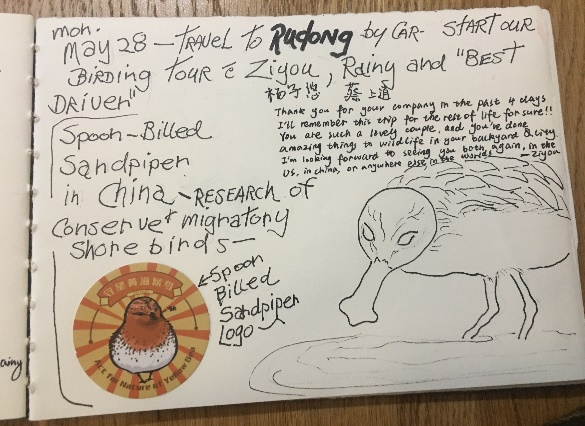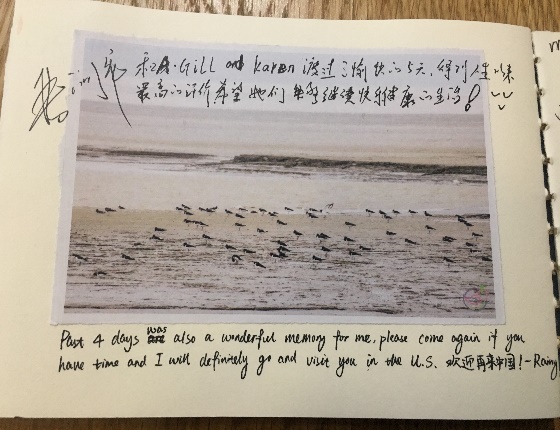 Ann certainly has her own artistic way of memorising the Amazing Yellow Sea trip.

Group photo. From left to right: Ziyou, Karen, Rainy, Ann (photo credit: Mr. Zhang)
If you are interested in joining this trip, please email: info@sbsinchina.com
For more information about Spoon-billed Sandpiper in China, welcome to follow us on Facebook (@SBSinChina) or Twitter (@SBS_in_China).
Acknowledgement
We thank Juegang Primary School of Rudong (如东掘港小学) for their help with the school visit, as well as their years of dedication to shorebird education.