The Coastal Waterbird Census Group (CCWCT) was established in 2005, training birdwatchers in bird identification and counting methods. Surveys have been conducted monthly since September 2005. Because most of the surveyors are volunteers, surveys are conducted at weekends. To facilitate bird counts, surveys are generally conducted at high tide during periods of spring tides
Of the 32 sites surveyed, 26 supported at least one species that met the 1 % criterion for recognition as a site of international importance. Among the 26 sites identified as being of international importance 13 are currently under some form of protection, of which 8 are National Nature Reserves, 4 are Provincial Nature Reserves, and 1 Wetland Park. The other 13 sites currently have no legal protection. Four of the sites are currently designated by the Chinese government as Ramsar sites.
The China Coastal Waterbird Census is the most successful and typical case of citizen science in China, all the surveys over the past twelve years were conducted by volunteer birdwatchers in their spare time.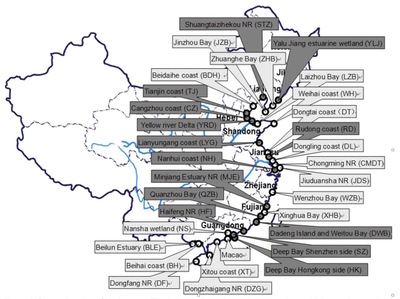 Figure 1: Survey sites along China's coasts. The dark grey shows the regular survey sites and light grey the occasional survey sites. NR: Nature Reserve